In the last few years, Black Friday has revolutionised British retail. Black Friday as we know it today began in the US in the late 1980s when retailers decided to use the chaos that followed Thanksgiving to help stores to turn a profit. Since then, expectation has grown for days, weeks or even a full month of sales and discounts. Black Friday is huge in the US - according to a National Retail Federation survey, 58.7% of Americans were planning shopping trips over the Thanksgiving weekend. But what about the UK?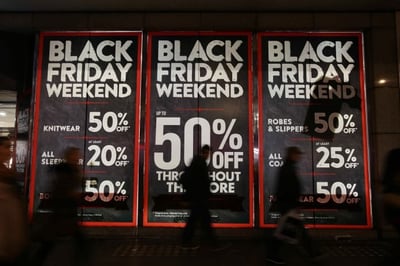 Black Friday in the UK is a much more recent concept with some noting Amazon's 2010 Black Friday event being the first of its kind. Other retailers picked up on the trend until eventually, almost all retailers were offering deals on the day after Thanksgiving. And it's catching – Black Friday is on the rise across European countries, although 60% of French people are thought to still be unaware of what it is.
When Black Friday really hit the UK in November 2014, many supply chains struggled to cope. Some of the most famous brands struggled to meet orders – Argos, ASOS, Curry's PC World amongst others – with some customers waiting up to 10 days to receive their items. There have been two more attempts since then so how did 2017 go?
The success of Black Friday 2017 depends on who you ask. According to Ipsos Retail Performance, UK footfall on Black Friday was up 0.95% year-on-year, with 42% of retailers experiencing footfall growth. However, other analysts suggest that footfall may have been down as much as 3.6% compared to 2016.
WHAT DO THE EXPERTS SAY?
Drapers editor Keely Stocker notes that the increased sales on Black Friday make up for the lack of spending in the preceding weeks, with consumers now waiting for the discounts before making their purchases. She also points out that instead of festive spending in the run up to Christmas, people buy their presents early, at a large discount and have no need to shop later on in the year. A Drapers survey found that almost half of respondents believed that discounting was damaging the industry.
Fat Face chief executive Anthony Thompson agrees, declaring that cutting prices so close to Christmas is "bonkers". However, Seb James, chief executive of Dixons Carphone, told BBC Today: "We think we sell more because we gain market share". He also argues that customers receive "real deals".
Regardless of success of Black Friday deals, it seems it's here to stay. Those who choose not to get involved may lose out to those who do...
Originally Published 28/11/2017