Traditionally, a new year is a time for making resolutions and new beginnings. What better opportunity will you have to start making your business a better place to work, than now? Having a positive work environment has its advantages, not only for your employees themselves, but it could have a return on investment for the business too – through increased productivity, lower staff turnover, reduced illness from stress and higher profitability, the list goes on. In fact, happy workers are 48.4 percent more likely to stay with a company. Happy, healthy employees mean a happy, healthy business. So how exactly can you make your business a better place to work?
1. Create a more pleasant workspace
Something as simple as opening the office blinds or moving desks closer to the windows can have a positive impact on a business. Researchers at Northwestern University found that employees with windows in the workplace received 173% more white light exposure during the day, on average, they also slept for an additional 46 minutes per night. Leaving workers better rested and therefore in a better frame of mind.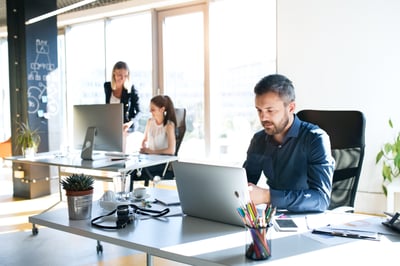 2. Offer reward schemes
Offering your employees perks and reward schemes can improve employee retention and allow your business to remain competitive in the employment marketplace, therefore attracting talent. More than a third of employees admit perks and benefits are amongst their top consideration before accepting a new job.
At Segura, we offer all of our employees' access to Perk Box and Vitality Healthcare. With Perk Box, employees have access to a variety of discounts from selected brands, restaurants and retailers making a treat a little easier to afford. Through Perk Box, there are free courses employees can take to strengthen their skill set and a range of tools to support employee well-being. Perk Box also provides a platform for employers and employees to recognise their fellow colleagues – company wide polls can be created to vote for "employee of the month" for example and rewards can be added to the winners account.
With Vitality, as well receiving free healthcare, employees can also earn rewards such as free cinema tickets and free Starbucks drinks through exercise, improving physical wellbeing simultaneously. Great physical health can have a positive effect on mental health and wellbeing – even a short ten minute burst of brisk walking increases mental alertness, energy and positive mood states thus reducing staff turnover, higher productivity and better engagement.
3. Encourage a positive work-life balance
Being able to switch off from work and spend time with loved ones can have a great impact on employee wellbeing, allowing them to recuperate and relax. Supporting employees and ensuring they do take time off will be beneficial to them, ensuring that they feel valued but also ensuring that they stay happy and healthy.
Compared with people who did not work overtime, people who worked three or more hours longer than a normal, seven-hour day had a 60% higher risk of heart-related problems such as death due to heart disease, non-fatal heart attacks and angina.

UCL Study: Overtime 'bad for your heart'
Sometimes the lines between a work and personal life can become blurred, which can cause an employee unnecessary stress and worry. Through offers such as flexible hours and supporting telecommuting etc., the stress and concern an employee has are reduced. By supporting employees and encouraging a work-life balance businesses can increase productivity, motivation, employee loyalty and have a happy, healthier workforce.
4. Organise staff activities and team building
Team building activities can play a vital part in business success. Setting time aside to encourage staff activities is a great way to get your team to connect with one another. The greater the level of collaboration, the greater the level of motivation and productivity.
Last summer, Segura hosted a staff scavenger hunt. The teams were divided so that those whom wouldn't usually work together had the opportunity to, by completing several tasks at various locations - it was such a brilliant and fun day out for all. If you are in need of some inspiration, we have found some great ideas here.
5. Offer development and training opportunities
For employees that thrive on progression and training, setting out a development plan and setting targets is a brilliant way to engage. Allowing an employee to have sight of what they could achieve will increase motivation, and through additional training an employee could bring a whole new set of skills to the team. Diversifying your workforce and supporting them to develop their knowledge and skills can have a multitude of benefits, from improving the quality of work, to helping your business adapt to change and prepare for growth.
There are many ways to proactively support and engage with your employees, bringing some valuable cost reductions and benefits to a business, it's a win - win situation. That's why at Segura, we believe that understanding, supporting and assisting our employees in their own success is directly related to the success of our business!
Originally Published 08/01/2019