Artificial Intelligence (AI) and Machine Learning are becoming increasingly integral to many industries, and fashion retail is no exception. Over recent years, the industry has seen advancements that are making every aspect of retailing faster, more efficient and cost-effective.
Utilising Data Analysis to Identify Consumer Trends
AI allows retailers to track which items are popular and selling well, meaning informed decisions can be made from current trends.
The rise in voice tech products like Amazon's Alexa or Apple's Siri, are giving fashion retailers more data than ever before. AI can make shopping easier for the customer, by suggesting products based on their previous searches, or by simply having a conversation with them. Amazon's Alexa can also now choose your outfits for you. The application "Echo Look" features a Style Check that allows the user to take photographs of themselves, and Alexa uses machine learning to rate outfits and suggest additions. Discussing latest trends and asking questions about specific colours can all lead to a personalised shopping experience and better customer satisfaction.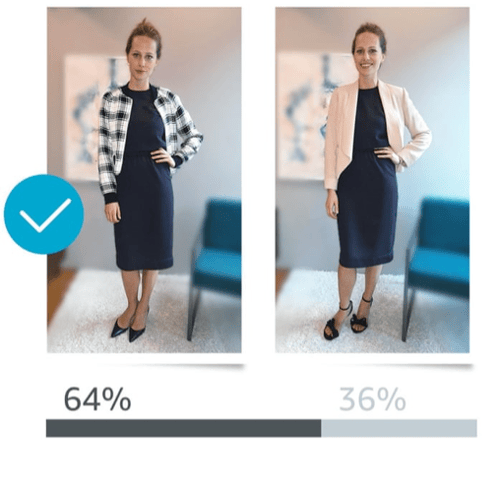 With investment in AI and automation, you can see clearly the demands of your customers and adapt your processes accordingly.
Many companies such as ASOS, H&M and Urban Outfitters are taking this even further. Not only does this focused approach to product ranges maximise production but can also lead to waste reduction and cost-saving.
Photo credit: The Guardian, "Amazon unveils Echo Look, a selfie camera to help you choose what to wear"
Customisation
While many brands have integrated AI into their sites for some time – think "Complete the Look" after you add an item to your basket - we are now seeing companies taking this even further. H&M are using AI to offer customers customised clothes on demand, partnering with Coded Couture whose app takes in data from your everyday life and uses complex algorithms to generate your very own "Data Dress". Their promise is to "create one-of-a-kind designs based on how you live your life".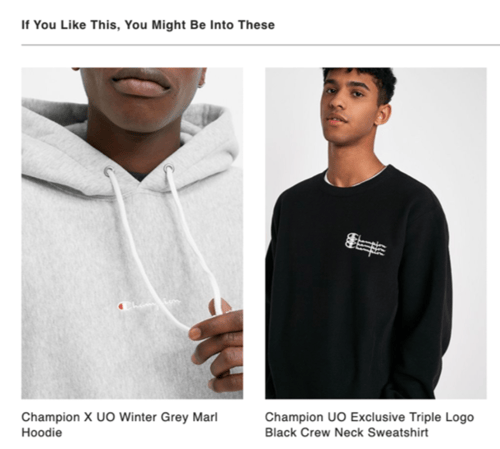 ASOS's Augmented Reality feature on their app also takes this a step further, allowing the user to experience a 360 degree virtual view of the clothing they are looking to purchase.
Right: An example from Urban Outfitters suggesting products based on the users past searches and purchases.
The Growth of AI Fashion Designers and Influencers
While AI lacks the creative spark that humans can call their own, it can get scarily close. For example, Tommy Hilfiger partnered with IBM and The Fashion Institute of Technology (FIT) for the project "Reimagine Retail" which allowed the AI to act as the design lead, in the hope to provide inspiration for the younger generation of fashion designers. Steve Laughlin, General Manager of IBM Global Consumer Industries said:
AI can assist design teams by enhancing and reducing overall lead times, and expand their creative discovery by analyzing and remembering insights from thousands of images and videos using computer vision. These designers can also more easily find how they can integrate trending colors, key patterns, and styles.
The AI pulled from an extensive list of 15,000 Tommy Hilfiger designs, 600,000 runway images and 100,000 samples from fabric sites. The speed and scale of which an AI can do this, compared to a human, illustrates how effective artificial intelligence can be. One of the results is this Tommy Hilfiger Jacket. Even with the best of manual tools, it would take a human so long to carry this task out, trends would have changed by the time new designs came to fruition.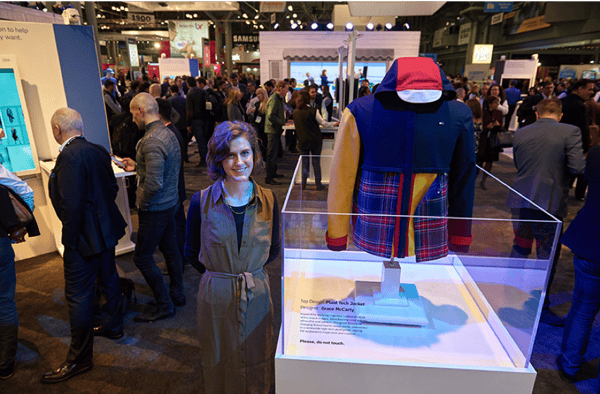 Student Designer Grace McCarty with the prototype.
Read more about the design here.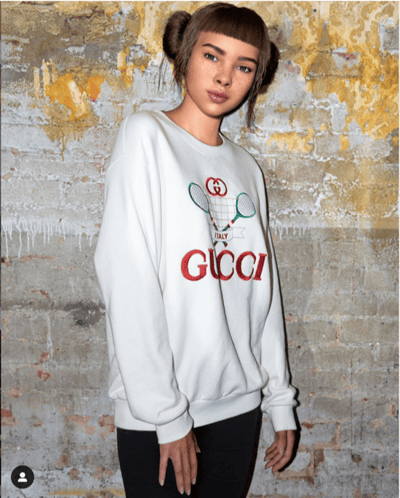 So, AI could soon be designing the clothes we wear. But also, we can see a rise in AI Fashion Influencers. Take Lil Miquela for example, one of the most popular digital characters on Instagram, she blurs the lines between a real human and a digital art project, often confusing her 1.6 million followers into thinking she is in fact real. The power of these digital creations is illustrated with Lil Miquela featuring in a Calvin Klein campaign alongside the (human) model Bella Hadid.
Shudu, who has been dubbed "The World's first digital supermodel", has featured in Vogue and has fronted campaigns for brands like Balmain and Ellesse.
Left: Lil Miquela wearing Gucci , [Instagram: lilmiquela]
AI is now not only responsible for the infrastructure of retailers' manufacturing and distribution, but it is also influencing what the world wears.
Can AI predict the next trend in fashion?
Yes and no… AI can monitor the most popular colours, styles and design types and then make a very accurate prediction to what the next trend will be.
AI-driven implementations for demand projection have the potential to minimize predicting errors by about 50%, as reported by Business of Fashion.
But, what AI cannot do, is account for the sporadic changes in fashion that occur overnight – think Kate Moss's Vintage Lemon dress she found in a thrift store on the way to New York Fashion Week dinner in 2003. This act of spontaneity caused thousands of copy-cats throughout the industry, and no algorithm could've predicted it.