I've worked in many teams during my career. Some led by open and dynamic individuals who encouraged drive, creativity and collaboration, some who only shared enough information with you for you to complete a very specific task, some who took no interest and had no insight into what we were working on and then a few who fell in between them all.From my personal experience, I can confidently say leaders who train, trust, support, encourage and engage have made me feel valued, helped me to realise my potential and in turn received my commitment, support and respect.
Harvard Business review says that the key is to be hands-on while giving your people the room they need to succeed on their own. This is something I actively try to take into consideration for my own management style. I think back to the best times of my work life and it's always when I was engaged and encouraged. One thing I've learned from managing people is that it takes time, consideration, empathy and patience.
The benefits of investing in your employees
In an article for Forbes, William Craig explains his thoughts around Why Leaders Should Invest in Employees. He lists, and expands upon, 5 key reasons why it benefits a business: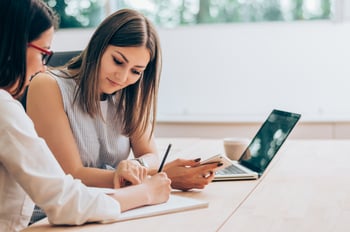 Attracts and Retains Great Employees
Boosts Employer Reputation
Increases Innovation and Performance
Allows Upward Mobility for Promotable Employees
Encourages Looking Forward
He states that leaders should lead and be visionaries but often they get overly involved in the execution of the job, resulting in reduced or halted innovation and growth. Actively focussing on employee development helps in making sure a company and its leaders grow themselves and are more focussed on the future than the day to day.
Investing in the work-life balance
Working for a business that will invest in employee development is a great start for any leader. Having the ability to fund and support employee development is crucial and in turn creates a talent pool of driven, creative, confident and loyal employees who are prepared for promotion and have a drive to progress.
However, if you want to have a meaningful impact, you have to engage with your employees on what is important to them and 9 times out of 10, it won't just be work related. Helping your employees to achieve their personal goals, through their work progress can be invaluable to them.
If I account for the interests of the whole person, not just the work person, I'm going to get more value from them,
Stewart D. Friedman, Practice Professor of Management at the Wharton School and author of Total Leadership: Be a Better Leader, Have a Richer Life.
I can clearly remember the first time a Director sat down with me and asked me what I wanted, not from my career, but what did I want for me, my family, what kind of lifestyle did I want. That director took the time to help me realise how I could relate it to my career progress to those wants and, most importantly, helped me to build in the steps required to turn my desires into tangible goals.
People with goals succeed because they know where they're going.

Earl Nightingale
Investing in flexibility
I've also had the luxury of being in roles where working from home is standard practice, which has become an important element for me. I have 2 children and a crazy dog, so the ability to be at home and greet my children from school or simply take the dog for a walk at lunchtime has eased my life and made my work experience better. None of this is possible whilst being expected to work 8+ hours from a desk at the office.
The funny thing is, when I work from home, I usually end up doing more. I also don't mind the late-night calls to our contacts in the US and Europe, because I know that my company will be flexible in return.
Investing in communication
Listening to your team is vital. In an article by entrepreneur they say that Virgin is a great example of a company that listens to its employees. Virgin have realised that every person on the planet has the potential to come up with the next million-dollar idea. They say that some of them may well be within your ranks, and the only way to find out who is, is to let everyone share their ideas.
Richard Branson put it best:
Customers come second, employees first. It's a philosophy that brings unexpected benefits to both the company and its clients.
Leaders must recognise that they have the ability to have a really positive impact in peoples lives, for me the big things to remember and instil are:
Trust your employees to deliver what and when they need to, allow them to be accountable and have pride in everything they do, and let them take the credit when they get it right.
Be open and transparent in your communication, show them how their work directly feeds into the big picture and give them the responsibility they crave.
Engage your employees on a personal level, help them to understand how their career progress can feed into them achieving their individual and personal goals. It's nice for everyone when this happens.
Support and encourage your employees to reach their potential, which might be your job. So what – it just means that you can take a long family holiday and know things are covered.
Empathise and be patient, people learn and develop at different paces and in different ways. Be adaptive and flexible.
Honestly and accountability are important and empowering, if you are honest and accountable you can encourage the same from your team.
Listen to your employees, ask them questions and allow them to carry out their ideas, some will pay off, others will result in a lesson learned.
In my experience, if you want to retain a great team, you have to strive to be a great leader, it's therefore important to make sure that you actively encourage and accept feedback. Really consider it and take the time to develop your own skills and abilities for the better.
Life is tough enough, so be the best you can be and help others to do the same, have integrity and always focus on the positives.