The level of anticipation is high in the run up to Christmas, as retailers and brands await the unveiling of their latest Christmas advertisement. From John Lewis' story of Elton John to Aldi's Kevin the Carrot, audiences around the globe have been captivated. But one advert in particular that has captured audiences is Iceland's story of Rang-tan. Iceland "struck a deal with Greenpeace to rebadge an animated short film featuring an orangutan and the destruction of its rainforest habitat at the hands of palm oil growers".
Throughout 2018 we have led the retail industry to take action in areas such as the usage of palm oil and plastics, and this year we were keen to do something different with our much anticipated Christmas advert.

Richard Walker, Iceland Managing Director
THE IMPACT OF ICELAND'S CHRISTMAS ADVERT
Iceland's latest advertising campaign went viral, with over 30 million views over social media. The advert highlights the impacts and consequences of irresponsible palm oil sourcing on the forest's inhabitants and how palm oil is in everyday items that we buy and sell. Earlier this year, Iceland pledged to remove palm oil from all of their own-branded foods by the end of 2018 in an attempt to halt the ongoing deforestation in South-East Asia, and this, combined with their Christmas advertising, has played a vital role in raising awareness of irresponsible palm oil sourcing.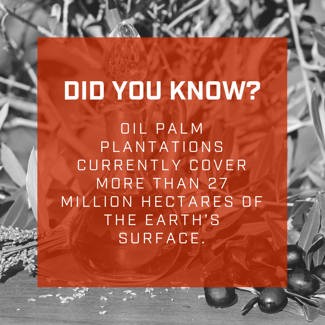 IS BOYCOTTING PALM OIL THE ANSWER OR SHOULD WE SOURCE RESPONSIBLY?
Previously we outlined the impacts of palm oil on the environment including its contribution to deforestation. The destruction caused by irresponsible palm oil sourcing can be devastating. With increased public awareness has come calls to stop buying and selling products containing palm oil but a recent report by the International Union for Conservation of Nature found that boycotting palm oil could actually displace rather than halt deforestation.
Half of the world's population uses palm oil in food, and if we ban or boycott it, other, more land-hungry oils will likely take its place. Palm oil is here to stay, and we urgently need concerted action to make palm oil production more sustainable, ensuring that all parties – governments, producers and the supply chain – honour their sustainability commitments.

Inger Andersen IUCN Director General
Boycotting palm oil means that we turn to alternative vegetable oils, because the demand for the products is still rife. However, the other common sources of vegetable oil such as soy actually require a greater amount of land to produce the equivalent amount of oil. In fact, oil palm produces about 35% of all vegetable oil on less than 10% of the land allocated to oil crops.
THE SOLUTION: SUSTAINABLE SOURCING
CERTIFICATION
Certification bodies such as the Roundtable on Sourcing Palm Oil (RSPO) ensure the credibility of palm oil sustainability claims. There are 8 principles for growers to become RSPO certified:
Commitment to transparency.
Compliance with applicable laws and regulations.
Commitment to long-term economic and financial viability.
Use of appropriate best practices by growers and millers.
Environmental responsibility and conservation of natural resources and biodiversity.
Responsible consideration of employees, and of individuals and communities affected by growers and mills.
Responsible development of new plantings.
Commitment to continuous improvement in key areas of activity.
Instead of boycotting palm oil, brands and retailers should instead focus their efforts on sourcing sustainable palm oil – resulting in a reduction in effect.The RSPO cannot drive these changes alone; whilst they are making great headway, there is still a lot of work to be done as currently less than 20% of the world's palm oil is currently certified as sustainable.
SUPPLY CHAIN TRANSPARENCY
With consumers asking brands and retailers to actively opt for sustainable palm oil and locating certified suppliers; the brands and retailers must then confirm that these suppliers are indeed the ones supplying their palm oil, rather than taking a trust-based approach. If brands and retailers claim to source certified sustainable palm oil, and are found not to be, they are putting their brand image and reputation at risk, as well as contributing to the environmental risk.
Segura Supplier Manager captures a retailer or brand's entire supplier network giving a deep insight into their supply chain. Together with Segura Order Manager, Segura can provide confirmation of the transactions between these suppliers to confidently reassure the brand or retailer of the source of each component of their product. In doing this, brands and retailers have full transparency and visibility over multiple tiers giving them control of their supply chain and the power to source sustainably.
INITIATIVES
There are a variety of initiatives available such as The Higg Index, which brands and retailers can sign up to, helping them to measure the environmental and social impacts of their operations in order to make improvements. There are tools to predict impact of products in their design phase and tools for manufactures to measure the social and environmental performance of their facilities. Although initiatives such as The Higg Index provide a powerful foundation for sustainable sourcing, they are not enough on their own.
It is only through collaboration between businesses, NGOs, governments and consumers will we truly see a difference, and it is only through discovery and data capture that we will be able to enact change.
Originally Published 11/12/2018