As part of their commitment to the constant development of the ethical and sustainable management of their operations, REISS, the modern, global fashion brand has partnered with Segura, the leading platform for next-generation supply chain transparency.
Segura will assist REISS to achieve greater transparency and compliance across their global supply chain through automatic supplier onboarding, multi-tier capture, mapping and reporting.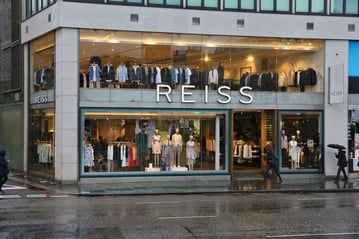 REISS approached Segura in 2022 to discuss a one-stop solution that would allow them to gain visibility of their supply chain from the first tier to raw material. They had previously worked with Segura through an existing supplier who had been asked to provide transparency and an audit trail of their label production. REISS has now commissioned Segura to provide traceability of their wider supplier chain. To validate their suppliers, ensure they are compliant with evolving legislation, and substantiate claims for their internal ESG initiatives and reporting.
REISS is continually working on sustainability initiatives such as packaging alternatives, in-store architecture and other non-product-related aspects. They partner with Better Cotton to improve cotton farming globally and have pledged to source 100% of their cotton as 'more sustainable cotton' by 2025. They are also a member of the Leather Working Group (LWG) who are dedicated to driving excellence in the leather industry.
Patrick Wall, CEO at Segura, said: "We are very pleased to be working with a company committed to promoting awareness of environmental management and leadership throughout their business. REISS is continually developing their sustainability strategy and Segura is well-placed to help them create an ethical and transparent multi-tier supply chain.
"Retailers are under increased pressure to comply with developing legislation and the Segura platform will enable REISS to access real-time supplier information throughout their purchasing and delivery process."
Join RIESS on the journey to NEXT-GENERATION supply chain transparency
There is a compelling business case for supply chain transparency. Gaining full visibility of your supplier network and their levels of compliance reduces reputational risk whilst providing insights and opportunities to improve both standards and performance.
Please get in touch to find out how Segura can help your business.