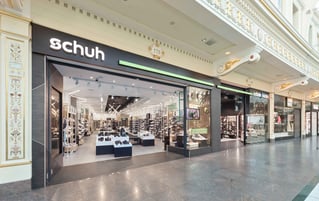 Leading high-street fashion footwear retailer schuh has partnered with Segura, the leading platform for next-generation supply chain transparency, to ensure its suppliers are ethical, sustainable, efficient, and compliant. Segura is the only solution in the market that enables companies to continuously map and monitor their multi-tiered supply chain.

Segura will support schuh in the delivery of their targets with its simple-to-use, cost-effective SaaS solution. Allowing schuh to map its supply chain further, automate the collection of ESG data and evidence, and proactively monitor the performance of its suppliers, materials and product components within its multi-tiered supply chain. Segura primarily delivers supply chain mapping and visualisation solutions to retailers and brands, uniquely creating a 'chain of custody' by order, capturing up-to-date compliance information and delivering transparency across the entire supply chain.
Having a platform like Segura will help with uncovering the materials and components for our products, coupled with where they come from, in much greater detail. Supply chains have become more dispersed and global, and in turn, so have data capture and reporting. Segura will provide us with access to real-time, accurate information. Segura's ability to capture and enable us to monitor our emissions and ESG standards is vitally important to our business and goals
Davie Leggat, Assistant QC Manager at schuh
schuh's main aims are to gain full visibility of its supply chain and have the ability to be able to review the environmental impact of its products at a deeper level. Segura provides a holistic view of the entire supply chain. Customers can actively map and mitigate the risk of supply chain interruption, including environmental factors and those potentially caused by unethical practices. schuh is in the implementation phase and will soon be onboarding their suppliers to the platform.
Segura's real-time and continuous due diligence throughout the up and downstream supply chain can help our customers to achieve specific ROIs. We are delighted to partner with innovative organisations like Schuh. Our aim is to help brands positively impact people and the planet, interrogating supply chains gives us a real opportunity to help businesses achieve key sustainability and governance targets.
Patrick Wall, CEO of Segura
---
About schuh
schuh is one of the leading fashion footwear retailers with over 120 stores in the UK, Ireland and online, selling over 80 of the hottest brands alongside their own label collection.
The stores offer a unique shopping experience, known for their distinctive in-store atmosphere and excellent customer service. The website delivers a seamless multi-channel experience with best-in-class shipping, free delivery to store in as little as 20 minutes and an always-on 1-year return period.
Across its adult and kids ranges schuh offers an extensive range of products with access to the best brands and the latest styles.
schuh is about shoes and sneaks, but also the people wearing them – teams, customers and the wider community. Fostering Diverse Talent, Mental Wellness and Sustainability are purpose pillars that schuh live by. To find out more about schuh's purpose, please click here.
---
About Segura
Segura Systems is a UK-based SaaS company enabling ethical, sustainable and efficient multi-tier supply chains.
Segura provides n-tier mapping, transparency, traceability, visualisation, compliance and reporting. Segura sits in the centre of your supply chain management structure creating a central repository for all your supply chain, ESG-related data and evidence, including from third-party data sources.