Zero waste week is upon us and with it, comes businesses, schools, universities and individuals trying to cut down (or totally eliminate) the waste that they produce. The aim of zero waste is simple: to send nothing to landfill by reducing needs, reusing, recycling and composting.
Official government statistics by the Department for Environment Food & Rural Affairs published in 2019 showed that 52.3 million tonnes of waste was disposed of in landfills in the UK in 2016. Although this is significantly less than the amount classified as "recycling and other recovery" (at 104 million tonnes), neither of these methods for dealing with waste are effectively solving the problem.
There is no such thing as "away". When we throw anything away, it must go somewhere.

Annie Leonard, Executive Director, Greenpeace USA
Whilst recycling the products – particularly harmful plastics – that have already been produced is better than sending them to landfill, it's essential to reduce the amount of waste we produce in the first place. We've rounded up some of our top innovations and case studies when it comes to reducing waste. Check them out: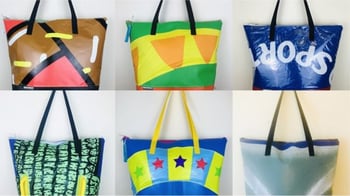 Wyattandjack's recycled plastic waste
Wyattandjack use upcycled plastic - deckchair canvas, inflatable and bouncy castles - to create sustainable bags and accessories.
People want to share the colours and the stories behind them. The whole business for me has really been about stories: stories of the beach, stories of British heritage.

Georgia Wyatt-Lovell
This stops unwanted plastics contributing to the landfill problem – with founder Georgia Wyatt-Lovell claiming that the business has saved more than 100 tonnes of materials entering landfill.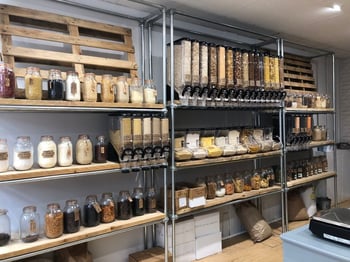 NADA – Leicester's first zero waste store
Based in St. Martin's Square, NADA offers the opportunity to shop locally sourced, sustainable foods, cosmetics, cleaning products and more, without any waste left over. The store uses the European and American concept of 'bulk bins', allowing customers to bring their own containers and take as much or as little as they like.
This zero-waste shop has everything you could need!
Beauty Kitchen's 'Return – Refill – Repeat' range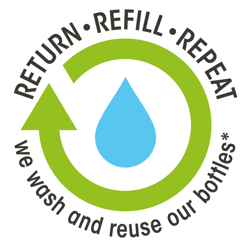 According to Beauty Kitchen, 95% of beauty packaging is thrown out after one use.
Almost all of Beauty Kitchen's products' packaging can be returned to them, to wash and reuse; identified by the 'Return – Refill – Repeat' stamp. For customer ease, this can be done through the post, in a Holland & Barratt store or empties can be refilled at the Boots Covent Garden store.
Now, that's what we call true beauty!
Zero-waste subscription boxes by Shorebox
Shorebox offers all the essentials you need to reduce plastic, in a handy monthly subscription. Each month is different and could include coffee, cleaning products, toiletries and more. September's box gears you up for plastic-free life with cleaning products, a cotton produce bag and either organic foot balm or eco-friendly SPF.
Take a look at this month's subscription box.
If you'd like to learn more about what zero-waste is, how you can get started, or buy some zero-waste products, don't miss the Going Zero Waste website.