Supply chain risk management needs to be a top priority for ethical fashion brands.
From recalls of substandard or even dangerous garments, to tragic collapses of badly built factories, apparel industry disasters generally revolve around the breakdown of supply chain risk management. Supply chain risk is a major topic in the garment industry, but, we ask, how does it apply to ethical fashion brands, and what must they do in order to avoid disaster?
Supply chain safety
Supply chain risk management involves the implementation of strategies to manage risk at all stages of sourcing, production and distribution, with aims to ensure supply chain continuity. The root cause of a collapsed supply chain can be miniscule, and the possibilities for something going wrong are virtually endless. Everyday risks can include drops in productivity and transport delays, while exceptional risks comprise industry strikes, natural disasters, or interrupted trade relations. Ethical supply chain risks can lead to terrible consequences, such as accidents, boycotting, and badly-tarnished brand reputations.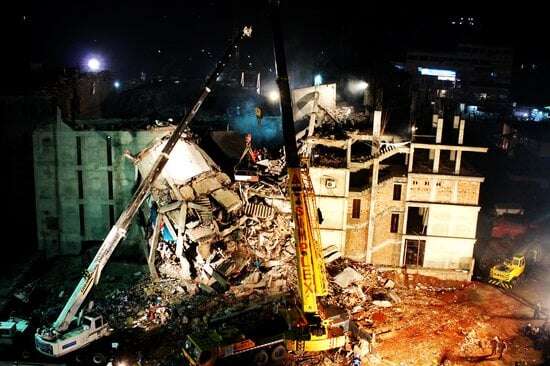 The Rana Plaza factory collapse in 2013 showed a shirking of responsibility by the building owners, local government authorities, and auditors, who all showed insufficient care for workers' safety. However, it also highlighted that fashion buyers and brands may have failed to ensure their supply chain standards. Labour standards and ethical values are becoming a huge issue for high street brands, and corporate responsibility reports are accessible from many fashion brands' website, showing exactly how our local fashion companies are making changes to their supply chain risk management.
Ambitions for Ethical Trade
Let's consider one example. Primark has made big steps in recent years to shore up their supply chain and improve their ethical integrity. Ongoing initiatives led the Ethical Trading Initiative (ETI) to recognize Primark as a Leader in commitment to ethical trading in 2012, which is high praise indeed. Through this ranking, the ETI confirm that the brand is working to benefit workers in its supply chain, and reporting transparently on progress, thereby tackling supply chain risks.
Responsible Sourcing
So how did supply chain risk management help in this transformation? For one, companies can work to ensure that raw materials are produced safely and ethically, supporting the start of their supply chain.
Primark is partnered with CottonConnect to train cotton farmers on sustainable agricultural practices, and work with AB Sustain and the Fair Labour Association to trace and verify cotton by its country of origin. They have also committed to the Partnership for Cleaner Textiles, which aims to save water and energy in textile dyeing processes.
Focus on Green Initiatives
Closer to home, focus on store energy consumption and recycling strategies not only improves a brand's environmental image, but also deals with risk management at the end of the supply chain, ensuring that resources aren't wasted, and a high level of energy efficienc is maintained. Lower electricity bills and a more enjoyable retail environment can make a big difference to a fashion company.
Many Primark stores across Europe utilise building energy management systems, and their first 'green store' in London boasts features such as rainwater harvesting, low energy lighting, efficient chillers and cycle racks, reducing CO2 emissions significantly. Primark's move to paper bags has also reduced their plastic waste.
The Result
During the economic recession, the public grew even more budget-conscious, and Primark's reputation as an affordable fashion chain proved to be a blessing, recently earning it one of the best performances that the high street saw over the Christmas period. Fashion brands must find a 'sweet spot', matching cost effective processes with reliability and ethical credibility, in order to keep the customer happy.
Room for Improvement
Few high street fashion brands have a perfect reputation, and the risk of supply chain corruption can sometimes never be completely removed. However, a majority of high street brands are more than willing to make every effort to negate this, and are becoming increasingly aware of the vital role that supply chain risk management plays in their industry. Fashion consumers are so far removed from the source of an item of clothing, that ethical fashion brands need to take responsibility for production standards themselves.
Editor's note: This updated blog post was initially published in February 2014.