With major retailers feeling the pressure to offer lower prices than their competitors, more palm oil is being used than ever before.
WHAT IS PALM OIL, WHERE IS IT USED AND WHY?
Palm oil is sourced from the fruit of oil palm trees and it is incredibly versatile. Similar to a plum, both the fleshy outer part and inner stone provide a usable oil and it creates more yield of oil from less land than any other vegetable oil. With major retailers and brands feeling the pressure to offer lower prices than their competitors, more palm oil is being used than ever before.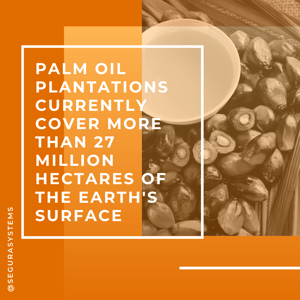 Palm oil is the most widely consumed vegetable oil on the planet, contributing to about half of all packaged products sold by supermarkets. Have you ever opened up the cupboards at home and read the labels on your products? You will find palm oil in various products such as lipstick, detergents, shampoo and many household favourites like chocolate, cookies and pizza.
Whilst 85% of all palm oil globally produced is from Indonesia and Malaysia, it is also grown throughout Africa, Asia and Latin America. Oil palm plantations currently cover more than 27 million hectares of the Earth's surface.
HOW IS PALM OIL IMPACTING THE ENVIRONMENT?
Palm oil grows in tropical rainforests, and the uncontrolled clearing of these forests has led to widespread deforestation and extensive carbon emissions. Loss of rainforests also contributes significantly to the world's rising greenhouse gas emissions and consequent climate change.
It has been reported by the WWF that an area of rainforest the size of 300 football fields is cleared every hour to make room for production of palm oil.
Plantations have also been connected to the destruction of the habitats of endangered species, including orangutans, tigers, elephants and rhinos. If the destruction continues at its current rate, it is thought that species like the orangutan and Sumatran tigers could be extinct in less than 3 years.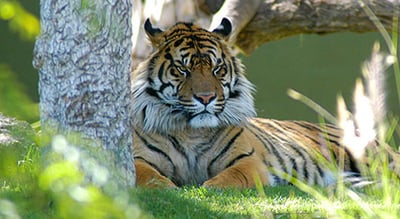 Governments often promote palm oil plants as being a way to improve their economy by providing the local community with jobs and therefore improve their lives. However, workers including children are exploited and are working in very unsafe conditions, often receiving little or no pay.
Local communities are being forced to leave their homes or suffer from major health issues due to the smoke produced when burning the forests.
For far too long, the palm oil industry and governments have failed to clean up the supply chain. Instead of voluntary certification we urgently need laws strong enough to protect rainforests, their precious wildlife and local communities.

Clare Oxborrow

Food and farming campaigner for Friends of the Earth
THE IMPACT OF NON-SUSTAINABLE PALM OIL SOURCING ON RETAILERS AND BRANDS?
Until such a time as there is genuinely sustainable palm oil that contains zero deforestation, we are saying no to palm oil…we think it's the right thing to do.

Richard Walker

Iceland Managing Director
Last year the association of major global companies with deforestation in Indonesia, not only called into question sourcing strategies and supplier policies, but resulted in serious brand damage. Following this, Twycross Zoo and Chester Zoo have both banned Nestle products from being sold at their zoos after they were suspended by the RSPO.
We fully support the RSPO's decision to suspend Nestlé and can confirm that we do not stock Nestlé products at Twycross Zoo.

Dr Sharon Redrobe

Twycross Zoo CEO
HOW CAN RETAILERS AND BRANDS ACHIEVE SUSTAINABLE PALM OIL SOURCING?
In 2004, a group called the (RSPO) Roundtable on Sustainable Palm Oil was formed to promote collaboration within the palm oil industry and increase the utilisation of sustainable sources. Members of the group are given strict guidelines about how they produce their palm oil. In the RSPO mandate, it is stated that workers must have fair working conditions, wages and they cannot have their homes and land taken off of them. Also, strict protection orders have been put in place to protect areas abundant with wildlife. Experts believe that the RSPO are doing fantastic work but there is still a long way to go, however, some speculators believe that it is still open to abuse.
While there are palm oil certification schemes in place, these are not legally accountable and don't necessarily guarantee that the palm oil used in products is sustainably sourced.

Clare Oxborrow

Food and farming campaigner for Friends of the Earth
The RSPO cannot drive these changes alone; whilst they are making great headway, there is still a lot of work to be done. Collaboration is crucial.
As consumers are making more informed choices, they are also driving change in retailers and brands; after all, as soon as a business' bottom line is affected by people choosing ethical and sustainable brands over theirs, they will be forced to listen and act.
Retailers and brands need transparency in their supply chains so that they can confidently trace the source and origin of the palm oil that is used in their products. If suppliers are found to not be following guidelines, retailers and brands should work with them to achieve full compliance. Brand trust is hard to build but easy to lose. By being proactive and leading the way retailers and brands will gain their consumer trust and loyalty, thus protecting their brand image.
Software solutions, that help the retailer or brand track the provenance of their products and give them peace of mind that they are working with ethical suppliers, are key to their success. If you would like to learn more about how you can have a transparent supply chain please contact us.