It's Fashion Revolution Week! Tomorrow, 24th April marks six years since the Rana Plaza disaster in Dhaka which resulted in the deaths of more than 1,100 people.
The global textile and apparel industry is currently worth around $2 trillion, with 80-100 billion garments being produced annually. Whilst this has hugely positive financial implications for the brands selling the clothes, there can be detrimental impacts on the environment and local communities within sourcing countries.
Damage to the environment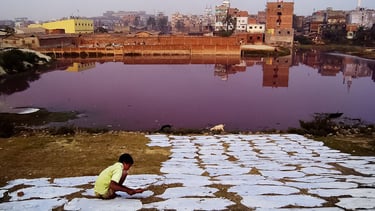 All types of production – fashion included – takes its toll on the Earth's resources. For example, an estimated 8,000 chemicals are used in the process of transforming raw materials into garments; these chemicals then enter freshwater sources causing devastating pollution and damage to local people's health. In fact, 350,000 famers die every year from pesticide poisoning; the Revival Collective estimated that the total number of poisonings of cotton producers annually to be an astonishing 77 million.
According to research by not-for-profit organisation Canopy, more than 150 million trees are logged every year and turned into textile fabrics such as rayon and viscose – placed end to end, those trees would circle the Earth a total of seven times. This deforestation destroys the natural habitats of animals and has put 80% of the Earth's land animals at risk of extinction. According to Netflix's new nature documentary, Our Planet, Borneo has lost one third of its jungle to deforestation in the last 40 years, reducing the number of clouded leopards to less than 400 – in 2017, there were 754 and a 2006 estimate was 1,500 - 3,200.
Nothing takes down trees faster than humans.

Sir David Attenborough
Child labour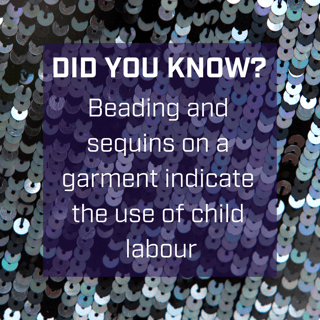 In total, the International Labour Organisation (ILO) estimates that up to 170 million children globally are involved in child labour, with many of them working for the fashion industry. The nature of garment production means that low-skilled workers are required, and children can perform tasks such as sewing sequins or harvesting crops without causing damage.
A report by the Centre for Research on Multinational Corporations (SOMO) and the India Committee of the Netherlands (ICN) found that parents in poor areas were convinced by recruiters to send girls to spinning mills in return for fair wages, accommodation and nutrition. In reality, "they are working under appalling conditions that amount to modern day slavery and the worst forms of child labour".
There are many girls in countries like India and Bangladesh, who are willing to work for very low prices and are easily brought into these industries under false promises of earning decent wages

Sofie Ovaa, global campaigner coordinator of Stop Child Labour
Why is technology needed?
It's clear that changes need to be made in the way that the fashion industry sources and produces its garments, but there's a problem: transparency. The rise in popularity of fast fashion in the 1960s lead to outsourced manufacturing and increasingly complex supply chains.
Brands and retailers now need to track and audit tens, hundreds and sometimes thousands of suppliers and with those suppliers out of view, it's difficult to know what they're doing. There's also the additional risk of unauthorised subcontracting; suppliers going beyond the nominated supplier pool to source components and labour from factories unauthorised by the brand or retailer, and again therefore unknown and unmonitored. If you don't know which factories are supplying you, how can you be sure that they are ethical? Even without subcontracting, manual tracking methods often fail to go past tier one of the supply chain, leaving the rest of the supply chain below the required level of visibility.
Employers get away with it [child labour] because the fashion supply chain is hugely complex, and it is hard for companies to control every stage of production. That makes it possible to employ children without big brands and consumers ever finding out.

Article "Child labour in the fashion supply chain"
This is where technology comes in. Segura's platform can be pre-populated with assets to be ordered from a nominated supplier list. If an asset is not ordered through the system (and therefore, could be a sign of unauthorised subcontracting), this can be flagged up to the retailer. The retailer gains full visibility of who their components are being supplied by, allowing them to carry out their usual auditing processes and checks. Orders processed through Segura allows for much greater levels of visibility, ensuring that ethical practices can be checked and confirmed at the relevant locations.
True visibility can only be achieved through technology. It can provide the data required to identify problem areas, and reduce risks associated with unethical suppliers.
If you're looking to start your own fashion revolution, check out our simple guide to technology that can help with sustainable sourcing.