The Digital product passport initiative is part of the proposed Ecodesign for Sustainable Products Regulation and is one of the key actions under the Circular Economy Action Plan (CEAP).
Digital product passport (DPP) seeks to shed light on the environmental impact of products across their entire lifecycle. The DPP increases the pressure and pushes for digitisation, connected data sets, and assessment of environmental impact across all product life cycles. As outlined in our previous article; The EU Digital Product Passport (DPP): What you need to know.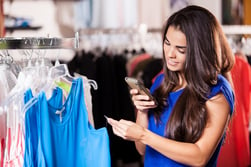 DPPs are not a stand-alone idea, elements of traceability, chain of custody and data sharing requirements are also present within a range of other regulations. Although the Digital Product Passport data collection is still being confirmed, there is a wealth of information available around other, interlinking legislation, we have tried to piece them together for you here.
What data do fashion brands need to collect?
Although the exact requirements for Digital Product Passport data is still being refined, when looking at the current and potential implementation, there are different data categories that can be collected and shared.
DISCOVER: General product and supply information
General product information and data (Description, Size, Colour, Image, etc)
Unique Product ID (UPI), article number/SKU, batch numbers/ reference numbers
Supply chain of custody for each component – supplier/manufacturer name, address, ID
Country of weaving, Dyeing/Printing, Assembly, Stitching etc
Type and origin of raw materials and components utilised
Weight/volume
Recyclability/ Circularity
Although not required to comply with the DPP, fashion brands also have the opportunity to further engage with their consumers by linking related products and articles around the good work they do, further confirmed by the data displayed, building confidence and trust that you align to the consumers purchasing practices.
MATERIALS: Composition and component information.
Full material composition including suppliers name and location, per component

Type and origin of raw materials and components utilised within the manufacturing and development of the product

Product certifications

Product weight by component type and overall tonnage

Product percentage of recycled and synthetic content

Presence and concentration of concerned chemicals (REACH)

Information related to the chemicals, plastics, ingredients and substances used, along with what materials have been previously recycled and recovered.

Ethical and sustainability of the products and the manufacturing process (Green Claims).

Packaging used:

Packaging component breakdown, supplier name, location and ID

Packaging material tonnage

Percentage of recycled and synthetic materials with evidence

Packaging disposal information.
SUPPLY CHAIN: Supplier and supply chain information on manufacturing.
Country of origin for each component down to raw materials

Component, label and packaging suppliers, the manufacturing facility location and dates, and manufacturer operator ID.

Ethical and sustainability of the products and the manufacturing process

Ethical information relating to each supplier/manufacturer in the supply chain (worker breakdown, health & safety performance, audits an compliance)

Ascertain and share the carbon footprint profile and CO2 emitted throughout the manufacturing process, lifecycle or through actual usage of the product.

Details on the energy utilised for that specific product (energy type, energy used / bills, emissions, factory capacity, PO volumes to underpin carbon calculations)

Details on water used and emissions during the manufacturing process (water used / bills, waste, emissions to soil/water, use of pre-wash filters)

Recyclable materials used and certifications
CARE
Details on how to correctly care for the product to ensure longer use.

Care symbols
RECYCLE
Details on the disassembly and recyclability of the product and the packaging.

How and where to correctly recycle the item and the packaging (cash back schemes for the return of end of life items etc)

Details and instructions for re-use and re-manufacturing.
REPAIR
Details related to the repairability attributes of a product.

Locations and instructions on how to repair.
There are two other categories which we don't believe will be initially required for Fashion products but more aimed at other consumer products in the short term whilst DPP is being implemented:
Ownership: Details related to past and current owners of a particular product, including detail of ownership duration together with an audit trail. The level of ownership detail will need to be considered based on use-cases.
Warranties: Digital versions of warranty, service, insurance and guarantee information. This would also contain expiry, and any repurchase data that a consumer could use to validate their claims and coverage.
Data Carriers
These provide a way for consumers to directly access the Digital Product Passport for a particular product. Currently the EU guidelines suggest that organisations will have the freedom to decide what data carriers they use for any single, batch or type of product. Data carrier types suitable for DPPs include:
QR Code
Already commonly used across several different industries for a multitude of purposes – the QR code is largely considered the current go-to data carrier. OR codes are also widely accessible due to their easy connectivity with a smart device. OR codes are considered the 'front runners' for data sharing with consumers due to their commonality and ease of use.
Barcode
Barcodes could be an option, but offer less flexibility in terms of the data held. They are limited in their ability to store product based data or act as a conduit between a user and a webpage.
NFC
Already used for contactless payments, NFC are similar to QR codes in that they are accessible through most smart devices, although they do carry an additional cost. A large advantage NFT tags have over QR & barcodes is their ability to be installed 'inside' a product and not on the 'outside' which could offer additional security benefits.
RFID
RFID tags are already used widely within the Fashion industry. They store a range of information from one serial number to several pages of data. Limited in use as they are not readily accessible on a smart devises and a specific reader is required. Although readers can be mobile, they are likely not the best carrier solution for DPP.
Segura's

Digital Product Passport (DPP)

Our Digital Product Passport Module allows retailers to share and evidence the provenance of their products. Growing legislation and consumer demand for sustainably and ethically sourced products is resulting in a new wave of information sharing. Through Segura, our retailer clients are already capturing and validating their supplier and product data to n-tier, gaining full transparency and traceability across their multi-tier, global supplier network.

Now with Segura, Digital Product Passport data can be shared. A unique item or product-level QR code can be generated and shared directly with consumers. Retailers can select the relevant data and evidence they have collected and display it to the consumer whether, they are in-store, at home or online.
This not only gives the retailer the opportunity to promote all the good work they are doing to deliver sustainable products from ethical suppliers but supports the customer in their buying decisions.
How do I start using Segura's
Digital Product Passport?
The Digital Product Passport capabilities are available to brands and retailers who are using the core Segura platform to map their supply chain and as a central repository for supplier management and all your ESG-related data and evidence. This includes third-party data sources, such as a PLM. Altogether this enables global, multi-tier supply chain transparency, compliance and reporting.
The commercial benefits are huge. Your first step is to drop us a line and we'll be delighted to provide a demonstration.
---
About
Segura
Segura Systems is a UK-based SaaS company enabling ethical, sustainable and efficient multi-tier supply chains.
Segura provides n-tier mapping, transparency, traceability, visualisation, compliance and reporting. Segura sits in the centre of your supply chain management structure creating a central repository for all your supply chain, ESG-related data and evidence, including from third-party data sources.
To learn more why not contact us today.