In an era of disco and punk fashions, Diana Vreeland, famous fashion columnist and former Vogue editor stated: "Fashion is part of the daily air and it changes all the time, with all the events. You can even see the approaching of a revolution in clothes." This observation was astute in the 1970s, and still rings true now.
In 2014, the fashion industry is undergoing an ethical revolution, with consumers demanding transparency on where clothes came from, who made them, and how they live. Supply chain management in the apparel industry needs to keep up with the times, and promote ethical standards for every step of the fashion garment industry.
April 24th 2014 will see the first ever Fashion Revolution Day, an event which aims to ask the public, "who made your clothes?" The awareness day hopes to initiate discussions about ethical fashion and re-establish the connections of the supply chain in the consumer's mind, encouraging them to consider the role of the cotton grower, weaver and garment in every new fashion purchase.
Why shopping has become 'dehumanised'
Ethical Fashion Forum board member Clare Lissaman stated that the success of sustainable fashion faces a major roadblock, in that, "we dehumanise our supply chain". Globalisation has reached such a level that we do not always consider where the items we buy have come from, and under what conditions they were produced. As we endure the slow recovery from the global financial downturn, we've become used to hunting for bargains, but often fail to explore the true costs of cheap clothing.
However, ethics is becoming a major issue in the garment industry, and buyers on the high street today are showing concerns about their impact on garment factory workers in developing nations.
Time for Change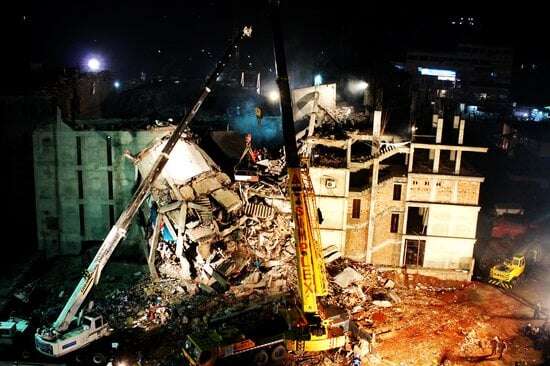 View larger
The Rana Plaza factory collapse
In January 2014, the struggle for fair working conditions in the apparel industry reached the media, when police in Phnom Penh, Cambodia, opened fire on factory workers protesting for wage increases. Research by NPO Labour Behind the Label showed that many Cambodian textile factory workers were seriously malnourished as a direct result of their low pay. Naturally, there were strong public reactions to this story, and people power can have a direct result on supply chain ethics.
April 2013 saw the collapse of Rana Plaza, a garment factory in Bangladesh, due to indefensible structural failures. The immediate result of this tragedy was over 1000 deaths, but the ensuing global public outcry did later lead to more positive consequences. The Bangladesh Fire and Building Safety Accord was consequentially set up as a legally binding agreement with aims to maintain minimum safety standards in the Bangladesh textile industry, "in which no worker needs to fear fires, building collapses, or other accidents that could be prevented with reasonable health and safety measures."
High street fashion behemoth H&M was the first major signatory, and over 100 retailers including Adidas, Abercrombie & Fitch, John Lewis and Debenhams have since followed suit. By October 2013, 1,600 Bangladeshi factories, representing around a third of the Bangladeshi textile industry, came under the care of this agreement. It is estimated that the total cost of the accord may be $1 billion, but with customers increasingly scrutinising the ethical reputation of companies, this price will be justified in order to achieve better brand transparency, not to mention better lives for millions of labourers.
Ethical Business Models
On the other side of the world, different changes are taking place in the apparel industry. In September 2013, production started at Industrial Revolution II (IRII), a garment factory in Haiti co-founded by actor Matt Damon, with a "shared value" business model. IRII promises to pay workers at least the minimum wage, and invest 50% of profits in local community and social programmes. This represents a reaction to unjust ethical conditions, and a unique way of promoting social responsibility within business, offering a more sustainable alternative to traditional international aid programmes.
The Missing Link in Supply Chain Management
In order for brands to prove their commitment to ethics, they need to have transparency on every aspect of production, and this requires careful supply chain management. Production tracking tools are essential to provide this level of visibility, allowing companies to ensure ethical compliance across all facets of their supply chain. All suppliers of labels, packaging, hangers, trims and similar items on the Segura system comply with industry standards for health, safety and welfare. This enforces transparency, accountability and ethical compliance, and minimises any chances of brand damage occurring.
Originally published 30/01/2014