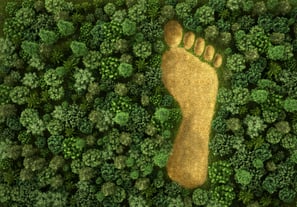 Supply Chain Sustainability, Scope 3 and Net Zero targets are linked, with each touching almost every aspect of your supply chain, from procurement to production to final product. Gaining transparency and optimising a supply chain can not only save money, but can also drive engagement, achieve targets, and deliver growth.
What is supply chain sustainability and why it's important
Supply chain sustainability starts at design with the intention to use more sustainable practices, materials, processes and suppliers, and reduce any negative impact on people or planet, while still making a profit.
Supply chain sustainability has previously been viewed as a "nice-to-have" for many retailers. Understanding the provenance of every product and material was desired, but not always viewed as realistic or a necessity.
Times have changed, and ever-mounting consumer and legislative pressure around sustainability is driving retailers to gather accurate and up-to-date product and supplier information. With the aim to reduce emissions, optimise production, source less harmful materials and processes, whilst decreasing waste.
At the beginning of last year we spoke to the top 30 carbon emitters in our equity portfolio and said to them 'you have three years to sort yourself out and come up with a transition plan, otherwise we will be disinvesting'.
In order to successfully mitigate risks and reduce emissions, retailers must gain visibility over their supply chains and capture up-to-date supplier, production and product information.
How to reduce Scope 3 emissions
Scope 3 is the indirect upstream and downstream emissions that result from company operations, which are typically over 11 times larger than Scope 1 and 2 combined.
Studies suggest that supply chains generate around 60% of all carbon emissions globally, so addressing supply chain sustainability is, therefore, an essential step in achieving net zero.
Mckinsey recommends that:
- Retailers need to gain granular visibility of their downstream value chain

- Retailers should track emissions at the product or sub-category level to help prioritise efforts to decarbonise

Supply chains form part of a company's Scope 3 emissions and are a major contributor. Supply chain transparency is key to finding a solution. Capturing, mapping and understanding the suppliers and processes within the supply chain, enables companies to assess emissions and capture information in target areas, such as;
- Energy use and energy source by supplier and product
- Product Weights, transport methods and distance of travel

- Benchmarking supply chains emissions by supplier and product
- Identify risks and prioritise action
Capturing and reviewing a company's supply chain data at this level puts them in a great position to work directly with partners and suppliers, towards creating long-term goals and practices not only around sustainability but also emission reduction.
Essentially, a sustainably managed supply chain represents good cost management: it's essential to really unpick and understand your supply chain. Having visibility of what you've got and how product flows allows you to make the right decision on what to make where, and whether you have to use air freight or can use greener and potentially cheaper ocean freight.
Data holds the key - Segura has the solution
A strong digital solution, like Segura, is key to building resilience and enabling companies to embed sustainability into their supply chains. Segura allows companies to increase transparency while reducing carbon emissions.
Segura gives us the data visibility we need that we didn't have before. All ethical and sustainability data is captured. Composition and fibre usage calculations are done using the platform and we are now using it for water and carbon usage (scope 3). We already have over 90% of our supply chain on Segura, with good visibility down to tier 4. Segura has been a huge huge win for us and is ensuring we are on track to meet our commitment to full supply chain visibility
Rate carbon performance and score emissions criteria
When supply chain data captured through Segura is connected across the company, it is especially powerful in helping companies to achieve their goals and take action in a number of areas:
- Rate suppliers' carbon performance; trigger and manage Corrective Action Plans
- Rate products' carbon performance; identify greener alternative materials and components
- Create ratings and scorecards so emissions criteria can be built into sourcing and procurement decision making
- Identify opportunities to use more carbon-friendly suppliers, manufacturers, products and transport methods
- Consolidate suppliers to reduce miles travelled
- Give consumers robust information to underpin their decision-making and drive low carbon demand.
This not only benefits overall operating and business performance but also drives progress. Companies can reduce regulatory and legislative risks, and transform the cost management of goods, whilst decreasing their operation and product footprint.
If you'd like to know more about how Segura can help your company please do contact us