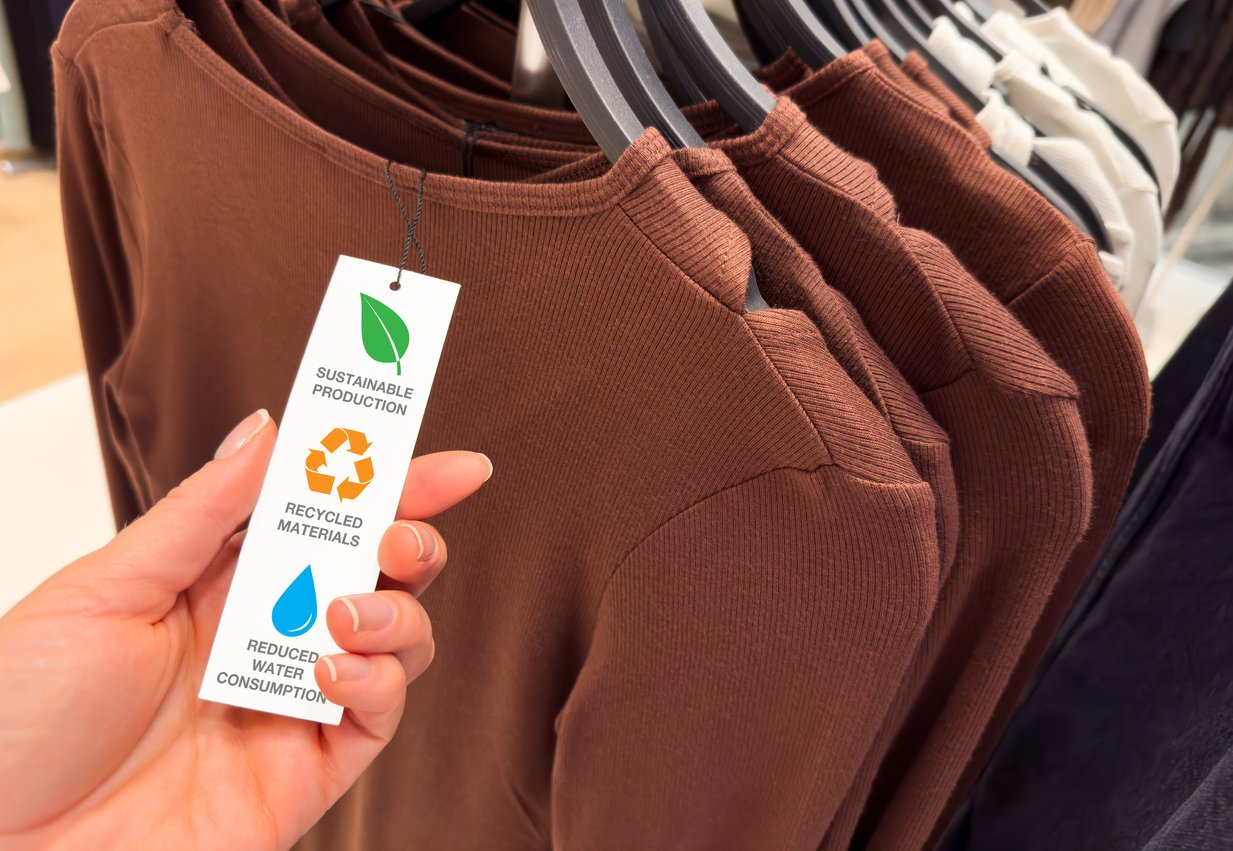 What is the French environmental labelling law?
France has led the charge in the retail industry with their 'Anti-Waste for a Circular Economy Law' making eco-labelling a necessity for large clothing brands selling in France from January 2023, and smaller ones soon after.
Legislation is coming, and there's going to have to be transparency.
This was the key takeaway from the sustainable apparel session at COP27 in Egypt in November 2022. The subject was 'Minimising Climate Impacts across the Value Chain' and the message was clear for all - collating a verified source of truth and linking it to a garment is going to be a game-changer in the apparel industry.
While transparency has long been advocated as the key to driving circularity in fashion production and consumption, the French Decree 2022-748 AGEC (Anti-Waste for a Circular Economy Law) makes verified environmental labelling an absolute necessity.
French regulators move first
The French government committed to a strong legal strategy, enforcing transparency about the environmental impacts of clothing sold in France. It has done so ahead of planned wider EU laws that will make climate-impact labels mandatory across the entire industry.
The French Decree 2022-748 will eventually apply to all fashion brands that sell garments, footwear, and home textiles in the French market. It was implemented for companies with a turnover above €50m in January 2023, and will be phased in for smaller companies during 2024 and 2025.
At a basic level, the legislation requires fashion brands to provide consumers with detailed information about the environmental qualities and characteristics of the products they purchase.
Businesses are required to:
Provide consumers with detailed information, this should include a products;
reparability,
recyclability,
sustainability,
re-use possibilities,
recycled material content,
use of renewable resources,
traceability and the presence of plastic microfibres
Information on traceability must be made available and the country where the following operations happen; weaving, dyeing, printing and assembly, for all materials, must also be included.
This product information must be made available to consumers at the point of sale – so online or in a shop – and available after sales. In practical terms, this means full supply chain traceability needs to be achieved and a dedicated web page per product must be built, to inform consumers about the specifications and environmental characteristics of the product(s) they are purchasing.
The first thing brands must do is commit to a digital solution that will give them supply chain traceability and visibility across heir enire supply chain, with the scope to adapt their data management to a fast-evolving legal framework.
The objective is to empower consumers to make conscious decisions about their purchases and to manage textile and packaging waste more effectively. It will contribute to the drive in eradicating greenwashing and push retailers to source genuinely sustainable fabrics, and to think about the longevity of the garments they design.
It's worth noting that smaller apparel companies with a turnover of €10m and above, or that put more than 10,000 waste-generating units into the French market annually, will also need to be compliant by January 2025.
What about countries outside of France, selling into the country?
The decree states that these brands will need to translate all the product information they collate and make available to shoppers, into French. In other words, every product you're selling will need a digital product page, in French, for the French market.
Are apparel brands ready?
One concern is that many 2023 garments have already been manufactured and in the supply chain, heading for sale in France – without the correct labelling. Resulting in larger brands having to make quick changes to comply with the new laws.
As so many commentators at COP27 pointed out, we have every reason to be hopeful that new laws like the French Decree will trigger a greener future for fashion and textiles. However with the EU bringing in similar laws for Digital Product Passports (DPPs) on garments from 2025, there are questions being raised about how different compliance requirements can better work together, but are yet to be resolved. Fashion acknowledges that supply chain transparency will play a vital role in reducing the amount of textile waste produced, and tackling the industry's heavy carbon footprint. But legislation collaboration needs to be considered further to help brands and retailers achieve the goals that are being set.
Thanks to the latest digital innovations, brands can engage with customers and drive behaviour change right now. Quite simply, if brands can capture the supply chain data and evidence for production, ensure components are sourced ethically and sustainably, together with considering the design and extend the life of garments, they can make real progress towards vital sustainability goals.
Risk Mitigation - start now
To ensure compliance, businesses urgently need to gain full transparency of their entire value chain. Ensure you have a supply chain transparency solution in place to get visibility of your n-tier supply chain, and start to gather robust data and evidence now. It can take time to gain this visibility and data, so the sooner you start the less risk to your brand.
Segura enables retailers and brands to uncover their n-tier supply chain at order level to ensure the data included on the label is validated, robust and traceable down to the source. Segura automates the collection and consolidation of environmental data for products, materials and packaging, providing evidence to back up your claims with full traceability of any product.
"The Segura platform gives us a deeper insight into our suppliers and the products and components they are providing us. This enables us to minimise risk and ensure products continue to comply with ever-tightening legal requirements. Segura allows us to better manage supplier relationships, quickly understand who is compliant, and perform the checks to ensure ongoing compliance. Segura's ability to centralise all of our data and evidence onto a single platform allows the various teams to use the same robust data to underpin their decision-making, and provides the business and consumers with the confidence that we are working towards the same goals."
The data captured through Segura includes; the location and country of creation and production of components, the presence of plastic microfibres, hazardous materials, recycled materials, as well as repairable, sustainable, reusable, composable and recyclable qualities.
This can then be communicated to consumers at the point-of-sale via Segura's Consumer Facing Portal, accessed by the consumer in-store by scanning a QR code or RFID tag on the product, or online via a product link.
If you'd like to know more, or have a free exploratory call, get in touch with us today; info@segura.co.uk
Advice for suppliers affected by the new law
If you supply businesses that are required to comply with the French Decree 2022-748, you are very likely to receive more requests for information relating to this;
Be prepared: Read about the French Decree and note what it asks of your customer. Get an understanding of what information your customers will need from you, why and when.
Be compliant: Make sure that you and your suppliers are up to date and compliant with environmental legislation. Make sure the relevant information is ready to share with customers, to help them comply with the Decree.