River Island Partners with Segura
River Island, one of the most well known and loved brands on the UK High Street, pride themselves on delivering stylish, affordable fashion. Mindful of the impact that fashion can have on the planet and the people who live within it, River Island have selected Segura as part of their strategic and digital transformation goals. Working together, Segura will support River Island on delivery of their commitment to build a relationship with the environment and society that puts in more than it takes out.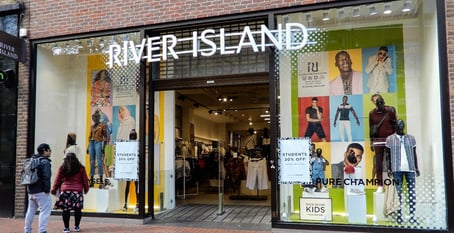 The business behind River Island has over 70 years retailing experience, with the emphasis always being on great design at the heart of everything they create. The majority of their products are designed in-house, and they are proud to deliver new and original fashion for customers every single week. As part of their commitment to more responsible fashion, River Island have recently published 12 Commitments for People and Planet, each aligned to the United Nations Sustainable Development Goals, to guide them towards a more ethical future. They have made good progress but have committed a desire to do more.
Working together
River Island approached Segura in 2020 and quickly recognised that Segura was the best placed solution to feed into and support their requirements. Segura's solution incorporates multi-tier supplier mapping and order level reporting with sustainable and ethical compliance management. River Island's key areas of focus were multi-tier supply chain mapping, transparency, management and compliance whilst linking into their planned strategic supply and sustainability goals. As Jose Arguedas, Head of Corporate Responsibility and Sustainability at River Island, explains;
Segura offers a well-rounded solution, incorporating all of the supply chain management and transparency needs we had uncovered, together with the ability for us to expand our use over time, as our needs grow. Segura is focussed on data capture and validation. Through the platform we can request the information from suppliers directly and validate it. With Segura we will save time and have more detailed reporting.
"The Segura team are great," adds Adrian Stevenson, Ethical Trade Manager at River Island. "Everyone has been enthusiastic and engaged from the start, the team are always available and quick to respond to our questions. We know exactly what we're going to be looking at each week and each day of the implementation. It has been a really positive relationship."
River Island have been working hard over the last year to develop some strategic goals for improvement. Increasing the visibility within our supply chain, understanding the journey of our components and improving our relationships with suppliers has been a key focus. We are already seeing benefits in these areas with Segura and expect to see more.
With Segura, clients can work to remove the need for so many emails and streamline their supplier engagement processes. A key deliverable when adopting Segura is to have all supplier information in one place and to allow for multiple team members in different departments to easy access to that information. This information can then be represented on a map which clients can use to review and drill into sites and locations for production and sourcing.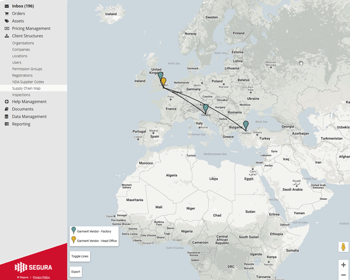 During the first six months of River Island's engagement with Segura, they've been able to delve deeper into their supply chain tiers, uncovering lower tier suppliers and valuable data about which products are made and where. They have also made improvements to supplier engagement and training, through Segura delivering both a translated platform and training materials for ease of adoption.
Through this partnership, River Island are well on their way to uncovering more detailed supply chain information and delivering against their commitments in advance of their 2023 target to fully map tiers 1-4 of their supply chain.
ABOUT SEGURA
Segura is the only solution that tracks orders all the way through the supply chain. They map out multi-tier supply chains driving compliance through their unique order-based reporting, ensuring that all suppliers act ethically and sustainably. Technology and innovation are core to Segura's mission. Client driven design sits at the heart of what they do and their in-house development teams bring client ideas to life. Their vision is to make the world a better place by ensuring that all supply is ethical, sustainable and managed.
ABOUT River Island
With over 70 years of fashion retailing experience behind it, River Island is one of the most well-known and loved brands on the High Street. Their customers can always rely on them to pick up everything they need from occasion wear to amazing denim and fabulous bags and shoes. River Island love the creativity, empowerment and fun that fashion brings to the world, but they want to be mindful of the impact fashion can have on the planet and on the people who live in it.