RIVER ISLAND CHOOSES SEGURA TO ENSURE ETHICAL SUPPLY CHAIN
Leading high street retailer River Island has partnered with Segura, the leading platform for next generation supply chain transparency, to ensure its suppliers are ethical, sustainable, efficient and compliant. Segura is the only solution in the market that enables companies to continuously map and monitor their multi-tiered supply chain, and will support River Island's corporate sustainability targets.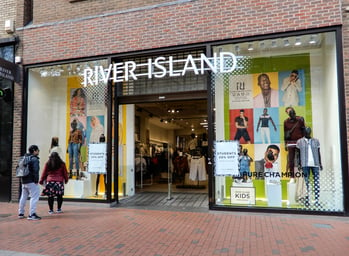 River Island have recently published '12 Commitments for People and Planet', each aligned to the United Nations 'Sustainable Development Goals', to guide them towards a more ethical future. Segura will support River Island in the delivery of their commitment with its simple-to-use, cost effective SaaS solution, providing the ability to manage and track orders giving suppliers fewer opportunities to use unwanted third parties, or factories in lower tiers that may be sub-standard, mitigating risks and ensuring transparency. Jose Arguedas, Head of Corporate Responsibility and Sustainability, at River Island commented:

Segura provides us with a complete solution, incorporating all of our supply chain management and transparency requirements, with the ability for us to expand the remit as our business needs develop. Through the platform we can extract detailed reports, requesting information from suppliers directly and validating it. It will allow us to identify opportunities to improve performance, and drive cost and time efficiencies across the business. Our customers expect products that are safe, sustainable, and responsibly sourced and we are committed to ensuring that is exactly what we can offer.
Peter Needle, President at Segura, said: "Our solution enables businesses to map and validate all suppliers through multiple tiers, capturing their compliance and standards information, and verifying this by linking to audit and certification partners. This will enable River Island to delve deeper into their supply chain tiers, uncovering lower tier suppliers and valuable data about product origin.
"Our aim is that one day every product will come with provenance: accessible, trustworthy information about origin, journey and impact. We want to generate rewards for brands making a positive impact on people and the planet, whilst empowering shoppers to drive progress through their purchasing power."
Join River Island on the journey to next generation supply chain transparency
There is a compelling business case for supply chain transparency. Gaining full visibility of your supplier network and their levels of compliance, reduces reputational risk and provides insights and opportunities to improve both standards and performance. Please get in touch to find out how Segura can help your business.