Supply Chain Transparency is the ability for retailers and brands to know, and be able to disclose information, about the flow of goods and materials through their entire supply chains, from raw materials to finished products. Transparency means willingly disclosing fact-based data internally, and externally to investors, consumers, legislators, campaign groups etc.
Why is transparency so important?
Supply chain transparency is becoming a non-negotiable in the fashion industry, with consumers keen to know more about where their clothes come from and how they are made. Added to that, the increased regulation from legislators around the world and the mounting pressure from campaigners, both demand compliance with ethical, environmental and safe working standards.
Industry-wide culture-change
However, retailers are not going to disclose supply chain information externally if it is detrimental to their trading business, so we can infer that Supply Chain Transparency also means Supply Chain Improvement. This is not a checkbox that can be ticked and marked 'job done'. It is a continuous effort to stay on top of supply chains and ensure that standards do not slip.
The textile industry is evolving very quickly, as new technologies are implemented, and new trading standards are being set. It is important for companies to realise that Supply Chain Transparency requires robust data capture and the right team to map the supply chain, conduct audits, resolve issues, reduce risks, increase sustainability and optimise the flow of goods.
The benefits of Supply Chain Transparency arise from improved standards within the supply chain, as well as the culture of openness. Let's look at five of the most impactful benefits for a brand:
1. Increased consumer trust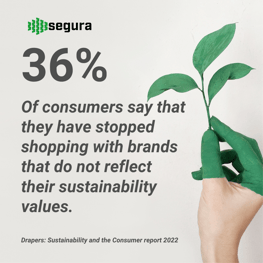 Consumers say they are more likely to trust and support retailers that are transparent about their supply chains. This is especially so for younger generations, who are more values-driven and socially conscious. A study by Fashion Revolution found that 69% of consumers in European markets want to know how their clothes were manufactured. However, it's also true that the savvy minds within the UK retail industry hold this statistic with a degree of scepticism: in their experience, it doesn't always play out in reality. Aren't younger cash-strapped consumers more likely to be swayed by price than provenance? And yet, there is clear evidence that consumer trust is lost radically when supply chain failures happen…
2. Increased credibility and reduced reputational risk
…Which leads us to the second benefit. Supply chain transparency does help retailers reduce their reputational risk. If a retailer is found to be using unethical or unsustainable practices in its supply chain, it can damage its reputation and lead to boycotts from consumers. But by being able to disclose up-to-date supply chain information openly to consumers, campaigners and other stakeholders, retailers are proving that they have intentional oversight and control over their supply chain.
Transparency and honesty are crucial. It's important to own a mistake. Ultimately, it comes down to trust and honesty; it's about trying to very quickly say, 'Yes, this has failed'. Then it's about communicating and explaining what you're going to do differently going forward.
3. Improved supplier collaboration and culture
By working towards supply chain transparency, retailers are also likely to enhance their collaboration with suppliers. By sharing information and working together, retailers and suppliers can identify and solve problems more effectively. Regular engagement with suppliers, alongside the support of a supplier management tool such as Segura, can improve adherence to compliance standards, ensure documentation is up-to-date, find ways to reduce environmental impact and waste, and improve quality control. Overall, a positive culture of partnership is likely to evolve, as all parties are incentivised towards mutual goals.
4. Improved risk management
By tracking and tracing the flow of goods and materials in the textile industry, retailers can identify and mitigate potential risks, such as supply disruptions, quality problems, and compliance concerns. A retailer can decide the key risks that it needs to mitigate against, according to its business priorities. Using a supply chain risk management tool like Segura's Compliance Manager means you can create, view and manage audits and, should non-compliances be identified at factories, raise corrective action plans and reports.
"Prioritising your supply chain resilience with true end-to-end visibility and transparency is key"
With regards to supply chain risk management, it is traceability not just transparency that is required. The ability to not only know what your supply chain looks like but real-time order tracking that fashion retailers and brands need. Mapping the supply chain gives you insight into where your suppliers are and what they do for you, but tracking your orders through the supply chain can show you ways to improve the flow, both in the long term and short term. For example, you might find that vendors are subcontracting to factories without your authorisation which could pose a risk, or that a particular consignment is at risk from a local disruption.
Effective supply chain risk management helps retailers prepare for and avoid costly supply chain disruption by being able to diversify their supply chains, plan alternative shipping routes, act quickly to implement backup routes or place replacement orders so that in-store product availability is minimally affected.
5. Better company performance, better recruitment, and other cost-savings
A 2021 study by McKinsey found that companies that are more transparent about their supply chains tend to have higher sales and profits. The study found that these companies are more likely to be seen as trustworthy and ethical by their customers and are also better able to attract and retain top talent. Employees are more likely to want to work for companies that are committed to social responsibility and sustainability. In this time of a highly competitive recruitment market, that is a significant benefit. For the apparel industry, there are some other financial wins.
Supply chain transparency can bring savings, for instance, in the consolidation of packaging suppliers, through increased supplier rebates and logistical efficiencies.
Supply chain transparency is an investor win
Supply chain transparency often contributes towards a business's ESG goals, which has been shown to have a positive effect on company share price, the likelihood of obtaining investment and available lending facilities.
See our article: How Retail Brands can make Cost Savings while driving ESG Standards.
In summary
Governments, investors, consumers, sales channel partners and employees are putting increasing pressure on the garment industry to be ethical, sustainable, and net zero. Supply chain transparency can give business leaders the data, and insights to reap the benefits available.
A true end-to-end supply chain transparency software, like Segura, enables retailers to map their supply chain, on an order-by-order basis, ensure supplier compliance and measure performance. Through the Digital Passport Module Segura also provides a view of all of the components and suppliers within a product's supply chain to give customers a full picture of a garment's provenance at the point of sale.
Overall, having one solution that does all, can empower enormous change and commercial advantage for retailers in a fast-changing industry.
---
About Segura
Segura Systems is a UK-based SaaS company enabling ethical, sustainable and efficient multi-tier supply chains.
Segura provides n-tier mapping, transparency, traceability, visualisation, compliance and reporting. Segura sits in the centre of your supply chain management structure creating a central repository for all your supply chain, ESG-related data and evidence, including from third-party data sources.
If you'd like to learn how Segura can help you, please get in touch with us today.