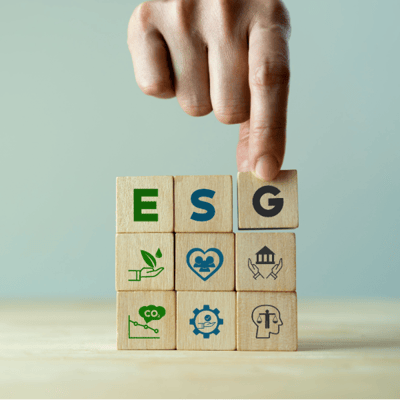 Environmental, Social and Governance (ESG) in business is about instilling a culture of responsibility within an organisation. It recognises that a business has a social, environmental and moral responsibility, not to destroy, but to steward its resources and people well and sustainably for the long term. Also, high standards of governance and ethics are required to adhere to this vision.
Whereas, once this might have been viewed as quite "soft", ESG is now a crucial and heavyweight way that business leaders gain the trust of stakeholders, including investors, government regulators and customers. For example, ESG pledges, reports and metrics are increasingly seen as barometers of company health.
ESG is regarded as important for future-proofing a business, especially as we encounter the realities of climate change, and is directly related to the value of shares and the likelihood of obtaining investor funding. (We look at these implications in our article here: "How Retail Brands Can Make Cost Savings While Driving ESG Standards")
a first step: ESG requires awareness
And so, ESG starts with the task of growing awareness: calling out the ways that an operating business has the greatest impacts, in terms of environmental sustainability and social concerns. It is not okay to turn a blind eye, instead, businesses have to dig into the details.
Unsurprisingly, this may well resemble a jungle of tangled vines: from the environmental impacts of material production methods, transportation and waste, to the less tangible issues of employee well-being, supplier management and community relations.
Mapping complex supply chains should be a critical focus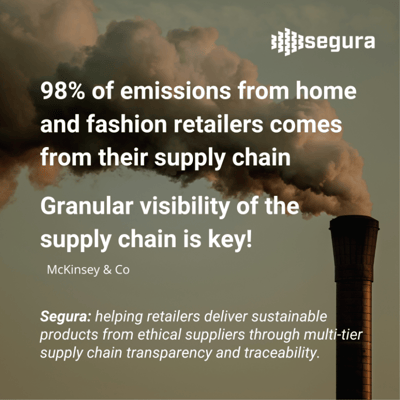 Research shows that production supply chains are often an area of ESG weakness. The garment industry is one of the most polluting industries in the world. It is responsible for 10% of global greenhouse gas emissions and uses 93 billion cubic meters of water a year. In terms of supply chain, its Scope 3 emissions can be as high as 98% of the total business carbon footprint (State of Fashion Report - McKinsey).
Likewise, it is in the fashion supply chain overseas where social responsibility issues are most likely to be hidden, where government protections are weaker or non-existent. The fashion industry is complicit in modern slavery, forced child labour, an underpaid workforce and unsafe working conditions.
When an organisation has many satellite suppliers and diverse distribution networks, understandably the risks of poor environmental standards or negative employee practices are greater, because they are not within a company's direct vision or control.
Fashion retailers and brands have a particular challenge, having diverse and multi-layered global supply chains. In the course of creating one new garment design, a retailer may be using 3, 4 or 5 tiers of sub-contractors, including raw material producers, to fabric dyers and printers, suppliers of zips, buttons or buckles and care labels, not to mention the garment manufacturers themselves. Mapping and auditing the supply chain will help ensure that poor working conditions and any abuse of the sub-contracted workforce overseas are uncovered and dealt with.
Supply Chain Transparency supports governance and social responsibility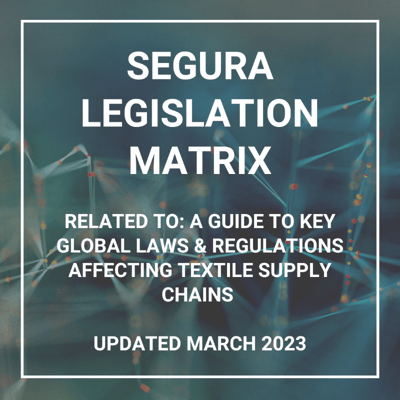 The complexity of how the apparel industry works can leave retailers exposed to shocks, if they have not taken responsibility for knowing and inspecting their supply chain. Companies have a duty of compliance to legislation, such as the Modern Slavery Act 2015, but this is the minimum. As the Textile Supply Chains Legislation Matrix produced by Segura shows, regulatory requirements on fashion brands and retail are increasing rapidly. Over the last 12 months, more than 150 legislative frameworks on sustainability and ESG were announced in the EU and the UK, let alone upcoming legislation in the USA and the rest of the world. Aiming for supply chain transparency will enable companies to prove they are meeting these requirements.
Similarly, companies face a social responsibility to care for the people within their supply chains with decent labour standards. Not doing so poses a significant risk to brand reputation, loss of share value and fines, for example if customers discover supplier workforces are mistreated, paid poverty wages or experience unsanitary or unsafe working conditions.
At worst not being aware of supplier misconduct can lead to the shock of human disaster, as the infamous Rana Plaza collapse demonstrated, when over 1,100 people died, and nobody knew immediately which companies were sourcing clothing from the building at the time.
A real commitment to ESG goals must be a commitment to Supply Chain Transparency and compliance, taking an active role in ensuring such a tragedy is never repeated.
A strong ESG performance requires supplier collaboration
Mapping tiers of suppliers for each Bill of Materials is just the first step towards the ultimate goal of Supply Chain Transparency. That is, the goal is not only being aware of who your suppliers are, and where they are, but also that they meet (or are making their way towards) your ESG standards on an ongoing basis. The goal is to have full transparency of your supply chain, its risks and opportunities, so that you are able to disclose your supply chain data to stakeholders with confidence.
How long should it take to reach Supply Chain Transparency?
True Supply Chain Transparency can only be achieved by applied effort and ongoing supplier management in tandem with supply chain mapping and risk management technology. Using Segura, retailers map out their supply chains, automate the collection of data from suppliers, complete risk assessments, and create regular reports.
Gaining full Supply Chain Transparency is not a 'quick fix', ongoing collaboration is essential to success as the supplier picture is ever-evolving.
Fashion retailers who make a commitment to Supply Chain Transparency as part of greater ESG goals need to dedicate time to collaborate with and support their suppliers. The good news is that many retailers use the same factories and manufacturers, so over time the barriers to supplier engagement has receded.
Through Segura, River Island has mapped more than 90% of its supply chain and is not done yet! River Island run regular drop-in sessions for suppliers – covering how they and their factory and vendor partners process orders and use the Segura system to submit documentation – suppliers can also see a checklist of actions they need to complete to meet regulatory compliance.
By keeping open communication channels, River Island gives suppliers the chance to regularly talk to its team and help shape their working partnerships around the use of the Segura system and how to increase transparency and sustainability.
The great advantage of this approach is not only improved compliance, but better supplier relationships as well as greater trust and collaboration. This opens the door to new opportunities, such as improved supplier performance, rewards for high-performing suppliers, and seeking opportunities in other areas of ESG.
How Supply Chain Transparency can help sustainability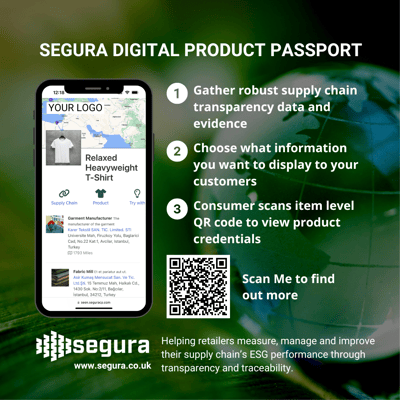 Looking ahead, being able to trace the provenance of garments and shoes, will enable retailers to assess a garment's carbon footprint, raw material use, water use and more. In fact, with new mandatory Environmental Labelling legislation such as the European Digital Product Passport, retailers will be required to communicate their green credentials to assist consumers with their purchasing decisions.
Carbon output is notoriously difficult to measure, but retailers are setting science-based targets and using third-party data sources like Higg to measure their supply chain emissions. As mentioned, it is not the only environmental impact that clothing producers should be concerned with. Water and energy consumption, deforestation, toxic chemical usage and pollution are other pressing issues.
Adrian Stevenson of River Island shared his experience of mapping their multi-tier supply chain:
Segura gives us the data visibility we need that we didn't have before. All ethical and sustainability data is captured. Composition and fibre usage calculations are done using the platform and we are now using it for water and carbon usage (scope 3). We already have over 90% of our supply chain on Segura, with good visibility down to tier 4.
Supply Chain Transparency can help remove THE risk of greenwashing
"Companies can no longer afford to make claims about a product's sustainability credentials without knowledge of each step in the supply chain." The Fashion Law.
Retailers who have Supply Chain Transparency will have much greater confidence in any green claims they make because they have robust data and evidence of their supply chain's ethical and sustainable performance to back it up. Over time retailers will also be able to show improving metrics and continue to incentivise suppliers to work towards their ESG goals.
Having visibility of your supply chain as it changes over time will show up where new environmental risks might be introduced as new suppliers are onboarded, or where efficiencies can be found, e.g. switching to more sustainable material composition, reducing duplicate orders and eliminating waste or improving energy efficiency.
In summary
Governments, investors, consumers, sales channel partners and employees are putting increasing pressure on the garment industry to be ethical, sustainable, and net zero. Multi-tier supply chain transparency is a serious ambition that will give business leaders the data, insights and evidence to help meet their ESG goals.
A true end-to-end supply chain transparency software, like Segura, enables retailers to map their supply chain, on an order-by-order basis, ensure supplier compliance and measure performance. It also enables a view of all of the components and suppliers within a product's supply chain to give customers a full picture of a garment's provenance at the point of sale.
Overall, having one supply chain mapping tool that does all that can empower enormous change and commercial advantage for retailers in the fast-changing fashion industry.
---
About
Segura
Segura Systems is a UK-based SaaS company enabling ethical, sustainable and efficient multi-tier supply chains.
Segura provides n-tier mapping, transparency, traceability, visualisation, compliance and reporting. Segura sits in the centre of your supply chain management structure creating a central repository for all your supply chain, ESG-related data and evidence, including from third-party data sources.