Viscose is a semi-synthetic fibre derived from the cellulose and wood pulp of fast growing trees such as eucalyptus, beech and pine, as well as plants including bamboo, soy and sugar cane - often referred to as a sustainable alternative to polyester or cotton. The uses of viscose lie mainly in the textiles industries; with the creation of garments, as a result of its soft, durable qualities.
THE IMPACT OF UNSUSTAINABLE VISCOSE SOURCING
Viscose is a significant contributor to the deforestation of the world's wooded areas. According to research by not-for-profit organisation Canopy, more than 150 million trees are logged annually to be turned into textile fabrics such as rayon and viscose – placed end to end, those trees would circle the Earth a total of seven times. It is expected that between 2013 and 2020, the number of trees being logged every year for the production of viscose will have doubled.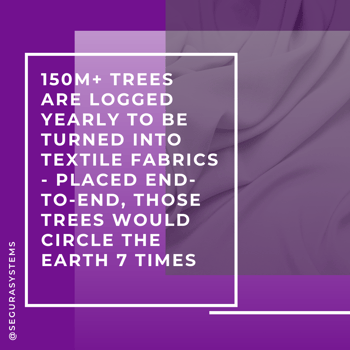 Deforestation destroys the habitats of 80% of the Earth's land animals who live in forests, putting many at risk of extinction. The quality of life of native tribes is also negatively affected by the removal of forested areas. As part of Segura's Sustainable Sourcing Challenges series, the effects of deforestation for manufacturing purpose have been investigated. You can read more information on this here.
During the production of viscose, wood pulp is treated with sodium hydroxide and carbon disulphide before being filtered and spun into thread. The toxics and chemicals released into the air and water during this process are highly polluting; carbon disulphide has been linked to birth defects, coronary heart disease, cancer and skin conditions of those working with the chemical and those living in the local area.
In addition to the health concerns raised over the pollution caused by viscose production, there is also risk to livelihoods. Local fishing industries can be destroyed by contaminated water.
RESPONSIBLE VISCOSE MANUFACTURING IN THE SUPPLY CHAIN
Whilst viscose is used in 7% of viscose clothing manufacturing due to it often being viewed as a cheaper, more durable alternative to silk – it is also used in the production of other household items such as upholstery, bedding and carpets.
Viscose is the most dominant method of producing regenerated cellulose, representing more than 70% of the global market; this is because it is possible to manufacture viscose in a closed-loop system, significantly reducing pollution in comparison to current methods. Unlike many other improvements within fashion sustainability, better viscose production methods already exist.

A company called Lenzing launched a new viscose fibre called EcoVero, it is a new and improved sustainable alternative to conventional viscose made from wood that is from controlled sources, either FSC (Forest Stewardship Council) or PEFC (Program for Endorsement of Forest Certification Schemes) certified; as opposed to specially processed wood pulp that stems from irrigation-intensive monocultures. The innovation has "set an industry wide benchmark" by having the lowest environmental impact.
Compared to conventional viscose production, the production of EcoVero causes 50 percent less emissions and takes up half as much energy and water in addition to its pulp bleaching being 100 percent chlorine-free.
Eco-friendly fashion brand Stella McCartney have pledged to source their viscose from sustainability certified Swedish forests. Alongside their NGO partner Canopy, the brand is attempting to protect forests from ending up in viscose; they say that approximately 48,00 football pitches of trees are logged annually for viscose production. Stella McCartney uses a variety of sustainable fabrics including those made from recycled and waste materials.
ACHIEVING SUSTAINABLE VISCOSE SOURCING
A recent Changing Markets report identified one of the key reasons for timely change as the expected increase in demand for viscose – around 5% per year to 2021. It is important that this increase in demand does not increase the level of damage to the environment, the quicker a sustainable alternative can be identified the better.
In order to create a fully responsible viscose production cycle, brands must take control of their own supply chains, driving change downwards to their suppliers. By 2030, viscose is expected to make up 8.5% of the fibre market.
CREATING A RESPONSIBLE PRODUCTION POLICY
Changing Market's "roadmap towards responsible viscose & modal fibre manufacturing report" suggests creating a responsible production policy, which should include:
Compliance with laws and workplace regulations
Upholding human rights
Guarantee the responsible sourcing of raw materials
Reduced greenhouse gas emissions
Measures to reduce the production of toxic chemicals
Transparent communication of environmental impacts
You can read the full list here.
With the increased demand for viscose supply, retail and fashion brands are unlikely to stop sourcing it. A Changing Markets petition has started to encourage brands to work closely with their suppliers to ensure that clean technologies are used, and to stop purchasing from producers who fail to comply.
Brands and retailers can spend hundreds of thousands of pounds each year on factory audits. However, if they cannot guarantee their audited factories are the ones that make their garments, there is a risk of financial waste. To guarantee the use of compliant suppliers, companies need to map and track their downstream supply chain. Supply chain transparency and proved product provenance gives brands the knowledge and traceability required for compliance and sustainable sourcing.
Originally Published 09/10/2018